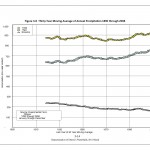 When Charles Mortureaux bought the shack that founded Camp Fortune in 1920, Ottawa was a snowier place.
It's not just the old fogies who say we used to get more snow, Environment Canada statistics prove it.
The City of Ottawa has just produced a study of watersheds within its municipal boundaries. Part of this study looks at Ottawa's climate and part of the review of climate looks at precipitation (as one might expect when examining watersheds).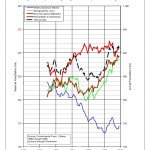 Check out these two graphs from the study (above and to the right here, click each for enlarged version).
Applying the simple formula that one centimeter of snow equals one millimetre of rain, Figure 3-8 appears to be telling us that in Mort's day the Experimental Farm was blanketed with almost 2½ metres of snow over the winter.
Do my eyes deceive me or does it look to you as if today we get only something over 1½ metres.
Figure 3-9 shows that even as rain has been increasing in every other season, in winter precipitation has been decreasing. Which is to say the amount of snow falling is falling.
It was 2005 when the NCC's study warned us that by 2050 there might not be any skiing in Gatineau Park.
Aside – it's a nice coincidence that Mort worked for what became Agriculture Canada and the data for the City of Ottawa study was collected at the Experimental Farm.