In Gatineau Park, on the spot where the Camp Fortune main lodge used to be, there stands a pile of rocks.No visitor could be expected to know why they are there; there's no sign. But they are important. They commemorate the founder of Camp Fortune and the NCC are thinking about whether they should restore the monument.

View Charles Mortureux Cairn in a larger map
To help the NCC in this consideration I produced a biographical sketch of the man. He was Charles Edmond Mortureux, known to thousands as Mort.
Besides his well-established role in Camp Fortune and the Ottawa Ski Club, I think there is evidence here that his efforts laid some of the groundwork for the creation of Gatineau Park itself.
The following is a slightly updated version of what I gave the NCC:
Charles Edmond Mortureux: his influence on the creation of Gatineau Park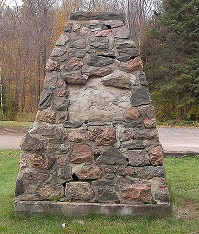 The following information supports the importance of restoring the 1950 monument to C. E. Mortureux.
The focus on Mr. Mortureux is not intended to diminish the importance of any other person whose efforts have contributed to the protection of the Gatineau Hills, but merely to highlight Mortureux's role and bring forward other details about the man.
The contention that C. E. Mortureux influenced the creation of Gatineau Park rests on two points:
He was by far the prime motive force behind the Ottawa Ski Club. OSC during decades before the creation of the Park, introduced many thousands of people to the Gatineau in winter. Previously, winter enjoyment of the Gatineau Hills was very limited. He was personally involved in establishing a trail network which also furthered the enjoyment of summer visitors to the future Park. In so doing he helped establish a personal fondness for the geography of the Gatineau Hills among a large number of people; he was likely more influential in this than any other single person in the first half of the 20th century. As such a foundation of popular sympathy for protection of the Gatineau Hills was laid.
His efforts to protect Gatineau woodlands from overcutting, predate similar efforts credited with legitimizing budgets for Federal District Commission land purchase. Although some sort of plan for a park had been in play since the Todd report of 1903, it was the cutting of forests that prompted the first land purchases by the FDC in 1938. The Lower Gatineau Woodland Survey report of 1935 had been called-for by the Federal Woodlands Preservation League (first conceived in 1933). Not only did Mortureux actively support the League, he had been working publicly and privately for the same objectives beginning as early as 1927.
Charles Edmond Mortureux was born in Bordeaux, France September 25, 1876. He came to Canada in approximately 1899 and graduated from the Ontario Agricultural College in Guelph as a veterinarian before taking up work as a dairy inspector, rising within the federal Agriculture Department to become head of translation for 25 years. He was a noted cyclist and was said to regularly swim across the Ottawa River from the Ottawa-New Edinburgh Canoe Club. As well as his deep involvement with skiing, Mortureux was highly influential in the history of that canoe club. The Ottawa-New Edinburgh Club website says "the Club's golden years were from 1923 to 1929"; it's no coincidence that Mortureux was elected president of that club in 1923 and commodore in 1925. He died in February of 1947 at the age of 70. By 1950 his friends and admirers had assembled funds and dedicated a monument to his memory at Camp Fortune.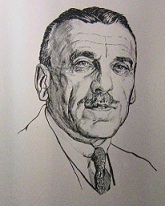 It is that monument, currently in disrepair, which prompts this biography.
In the context of Gatineau Park C. E. Mortureux is remembered as the President of the Ottawa Ski Club from 1919 to 1946. During this lengthy period it was his amazing ability to mobilize the energies of OSC members and supporters to all of the thousands of tasks that made the club notable on a national and international stage.
Mortureux as prime mover in the OSC which introduced many thousands to the Gatineau Hills
Under his presidency membership quickly swelled into the thousands and other members of the club executive consistently point to him as the linchpin of the organization during 28 his year leadership. As Frank Semple wrote for the Ottawa Journal in tribute on Mortureux's death:
It is only those of us who had the rare privilege and pleasure of assisting him in the development of these facilities who have any idea of the untiring effort, the endless zeal, the dauntless spirit of the man to whom discouragement and disappointment served but as foundations for greater accomplishments. Jumping towers might blow down, ski lodges might burn down, only to have finer ones erected in their places. Where the funds for their construction were to come from, no one could see. But Mort always had some scheme for raising them, and raise them he did. Whether it was to purchase, pack into Fortune on his back, and cook on the old cracked stove in his shack an eight pound roast of beef for the dinner of Lord and Lady Willingdon [the Governor General and his wife]…
A chronology of only a few of his Ski Club achievements:
1905 he first set ski to snow, aged 28
1913 joined the Ottawa Ski Club
1914 influenced reorientation of OSC to XC skiing (previously jumping only, alpine effectively did not yet exist as a distinct sport)
1914 – 1918 deeply involved in earliest ski trail development including into current Gatineau Park
1919 influential in the re-inaugurated the OSC after WWI, becoming president
1919 oversaw XC committee including development of a trail map
1920 bought first Camp Fortune lodge
1922 oversaw saw a bigger 2nd lodge at Camp Fortune plus lodges at Pink Lake and Dome Hill (now Club de Golf le Dome).
1925 & 26 oversaw major expansions to Camp Fortune and Pink lake lodges plus one on the east side of the Gatineau river (later moved to become Western lodge).
1939 oversaw rebuilding of an even bigger Camp Fortune lodge after a fire the year before.
Dec 1946 retired as OSC president
Feb 1947 died at age 70
During his presidency of the OSC he privately and publicly entertained several Governors General and Prime Minister Mackenzie King at Camp Fortune and maintained ongoing relationships with these and other leaders of local and national stature.
During Mortureux's OSC presidency he edited their newsletter (and wrote much of it), sometimes a dozen issues a season, which amounted to thousands of pages over the period. Membership grew from a few dozen at the start of his tenure quickly into the thousands to a documented 2500 at the time of his death (in 1938 he wrote of 3000 members). This very likely means that during his lifetime greater than 10,000 people were exposed to winter in the Gatineau who otherwise might not have been; before the popularization of skiing those who experienced winter in what is now Gatineau Park were restricted largely to those who lived there, mostly as small farmers, and this number could be counted in the low hundreds. The OSC establishment of trails facilitated greater summer use of the area as well. Cottage and country estate use of the Gatineau hills was already under way, as was tourism as evidenced by the farmhouses open as hotels.
In this way Charles Mortureux imbibed thousands and thousands of people with a love of the Gatineau Hills, paving the way for a public acceptance of government investment in protecting the woods and trails.
Mortureux as advocate for woodland conservation
Public concerns about excessive tree cutting is usually cited as one of the factors contributing to the establishment of Gatineau Park, in particular the creation of and activities of the Federal Woodlands Preservation League. As far as we know, The Federal Woodlands Preservation League was first discussed in concept by Mackenzie King Sept 1933 and began operations in 1934/35 under the leadership of Harry Baldwin, Mackenzie King's then former Principal Private Secretary from his second period as Prime Minister.
Mortureux's OSC News makes mention of forest protection as much as six years earlier, as early as January 19, 1927
The Club has purchased…some seventy acres of heavily wooded land surrounding the Club house, for the purpose of…saving the natural beauty of the surroundings. The mountain is being rapidly stripped of its trees all around us… Would they forgive us if, through lack of foresight, we allowed this heritage to be squandered?
Just the month before, OSC News had praised Mackenzie King for his purchase of 300 acres through which club trails ran and his facilitation of their continued use.
The Feb 22 1928 OSC News opening headline is "Save Our Trees"
What can we do about it? We could buy the land with the trees on, and keep it as such…preserve the beauty of Camp Fortune…so that all may say: 'We have helped in preserving the beauty of the Gatineau hills…'
In March of 1929 Mortureux entertained:
Camp Fortune received the visit of the Prime Minister, the Right Honourable William Lyon Mackenzie King…At the luncheon, given to him at the President's lodge, the Prime Minister told the Directors one or two secrets which we are not at liberty to divulge as yet, but which should make every one of our members very happy.
As OSC president Mortureux oversaw in 1933 the creation of the "Ottawa Ski Club Forest Preservation Society" which began fundraising in a big way; the grand prize for the fundraiser was a "Ford V-8  Coach." This predated the 1934 formation of the Federal Woodlands Preservation League.
Once the League had been formed—with Mortureux's involvement—he urged OSC members through the OSC News to support the League, including a League leaflet and contribution form with his mailing to approximately two thousand OSC members.
Finally, with respect to forest conservation, in 1936 Mortureux wrote Mackenzie King—then in his third period as Prime Minister—to encourage action in the wake of the release of a report on the Lower Gatineau Woodlands Survey undertaken by the Interior Ministry as a result of the efforts of the Federal Woodlands Preservation League. The first FDC purchases were to follow in 1938.
Conclusion
Charles Edmond Mortureux was a key figure not only in the establishment of all types of ski sport in the National Capital Region, his energy and dedication were important factors leading to the establishment of Gatineau Park itself. The monument to his memory is an important artefact in the care of the NCC. Its current state of disrepair is such that most park visitors encountering it could not be expected to recognize its significance in any way. There is no indication that it commemorates anyone or anything, much less that it commemorates one of the most influential instigators of the recreational role of Gatineau Park. The restoration of the Mortureux monument is fully justified.
Biblography & Notes
Book History of the Ottawa Ski Club by Herbert Marshall, 1972
www.museevirtuel-virtualmuseum.ca includes an exhibit Origins of Skiing in Canada's National Capital Region which contains a tabulation of OSC membership year by year, routinely in the range of 2000 members throughout the almost 3 decades of Mortureux's presidency. Over this period a high degree of turnover might be expected so that an estimate of 10,000 individuals over the period is not unreasonable.
The contention that Ottawa Ski Club trails were enjoyed by summer hikers is supported by no less an authority than Mackenzie King's diary. For instance the entry for October 5, 1933 mentions walking from Meech Lake via Camp Fortune to Kingsmere. www.collectionscanada.gc.ca/king
Further evidence is implied by Mortureux himself in a 1938 article he wrote for the Civil Service News where he says that one of the reasons he took up skiing was that "a heavy fall of snow had put an end to hiking over the Gatineau roads." It is notable that he is referring to "roads" and not trails as the places to hike at the opening of the 1900s.
The NCC website contains a report entitled The Creation and Early Development of Gatineau Park: Study on the influence of local interest groups and the socio-political context of the Park's creation from 1903 to 1956 authored by Serge Gagnon, PhD Geography; Michel Filion, PhD History; and Caroline Tessier.
A draft of the text for the Mortureux monument plus a note to Sigurd Lockeberg from "Jim" (perhaps James S. Patrick) including the statement "The fact that we think his name should become a legend is the highest tribute we could pay…"
Notification in the 1950-1951 OSC Year Book that the Mortureux monument had been erected
A reminiscence of Mort 10 years after his death. This piece once again underlines Mort as a leader and seen as such by his peers.
An image of Mortureux monument as it appeared in 2010 can be seen here
An image of the plaque which was originally mounted in the monument can be seen here
A tribute to Mortureux at the time of his death written by H. P. Douglas, founder and long term president of the Canadian Amateur Ski Association and editor of the Canadian Ski Annual
Ottawa Journal tribute to Mortureux written by Frank Semple (a fellow OSC official) at the time of Mortureux's death
Newspaper clippings & obituaries
The 1947-1948 OSC Year Book confirms that Mortureux was chief scribe and editor up to the time of his passing https://guidegatineau.ca/files/2011/03/Page-from-1947-1948-year-book.pdf
Photos and Biography at Canadian Ski Museum website
Biography provided by the Ottawa New-Edinburgh Club
Portions of the Ottawa Ski Club News mentioned in the biographical sketch are reproduced at the following links
https://guidegatineau.ca/files/2011/03/Pages-from-1927-01-19-4.pdf
https://guidegatineau.ca/files/2011/03/Page-from-1926-12-23-1.pdf
https://guidegatineau.ca/files/2011/03/Pages-from-1928-02-22-5.pdf
https://guidegatineau.ca/files/2011/03/Pages-from-1929-03-13-10.pdf
https://guidegatineau.ca/files/2011/03/Pages-from-1933-12-01-1.pdf
https://guidegatineau.ca/files/2011/03/Pages-from-1935-03-25-15-7.pdf
What Follows is the transcript for the YouTube video:
What is this thing? Your average Gatineau Park visitor might be forgiven for not knowing what this pile of rocks is. How could they possibly know, there's no sign, nothing.

In fact this is a memorial put up in 1950 to a really amazing guy. It might be going too far to say that without him there would be no skiing in the National Capital region, but it isn't going too far to say that all the skiing we have in Gatineau Park is due to him. That includes Camp Fortune and all the cross country trails. It's even arguable that without him there might not be a Gatineau Park at all.

He was Charles Mortureux; Mort. There used to be a Mort's Hill at Fortune but now he's not even remembered in a trail name.

So the NCC is thinking about whether Mort's memorial cairn should be restored. To help them I've been going through the records digging up info on what an amazing guy Mort was and now I'm posting that info at GuideGatineau.